Now Available!
---
REIMAGINE: Concrete Design Competition- Workshop
21st February 2022  12:45-17:00 (CET)
What if we could disassemble and reuse all concrete elements of structures and buildings?
Concrete is a material with great durability. One of the sustainability strategies is to use the materials and elements we make for a long time. But since we have no crystal ball to look into the functional and structural needs of future generations, it might be a sustainable strategy to ensure that these elements can be disassembled and reused in other structures.
The concrete industry is working on material-based solutions, but a key element where they can use inspiration and expertise is the design aspects of the elements and built objects to improve their reusability. At the beginning of the workshop you will be presented with some example issues that the industry is struggling with, but you are free to come up with your own concrete related issues to tackle in this workshop.
After the workshop it is possible to submit your design idea for the 10th edition of the Concrete Design Competition [link: www.concretedesigncompetition.com ] with the theme REIMAGINE. In this competition your team can win a cash prize and an invitation to the International Concrete Design Materclass in Berlin where you will design and pour a concrete structure. Deadline to submit your idea is June 1, 2022.
What solution can you imagine for building with concrete in the circular economy? Register for this workshop in your team of max. three people or enter on an individual basis and you will be assigned to an interdisciplinary team with students from the Building Technology Faculty of Architecture and students from the Structural Engineering Faculty of Civil Engineering.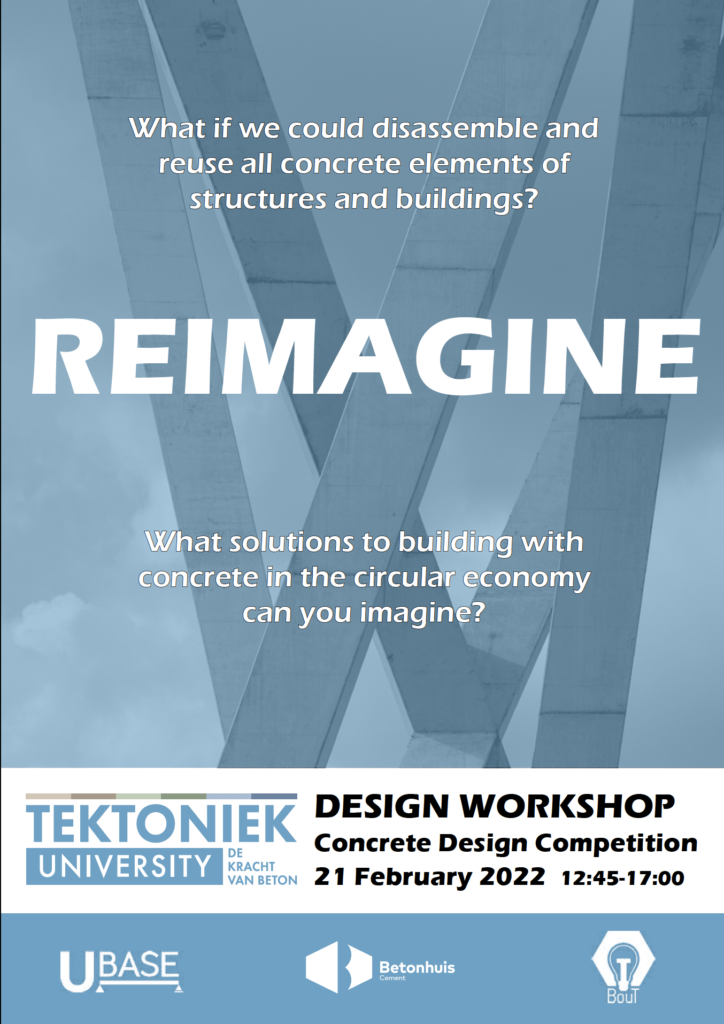 ---
For more information Contact us!
---