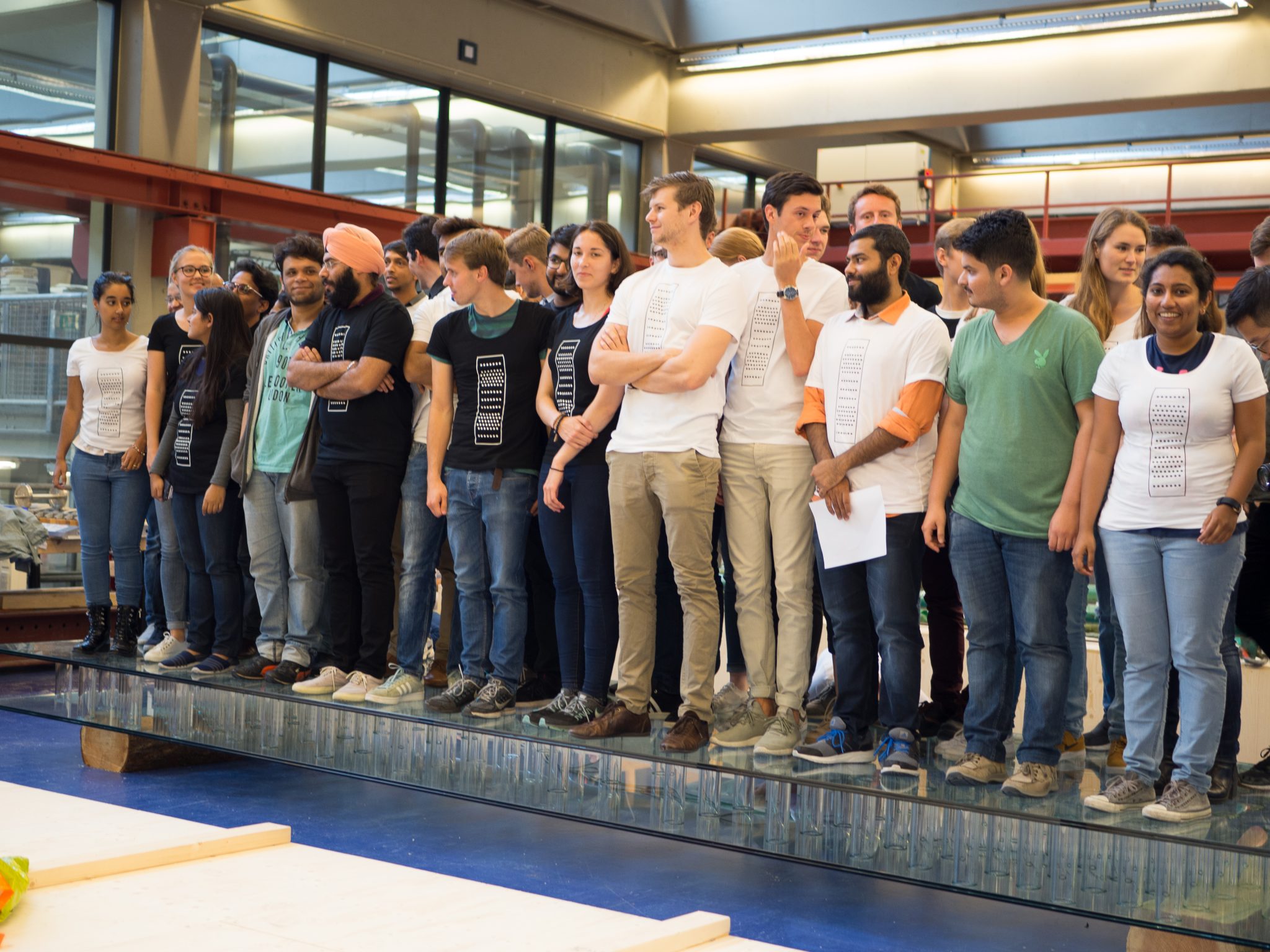 On Monday October 15th, BouT in collaboration with U-Base, the study association of Building and Structural Engineering master tracks at the Faculty of Civil Engineering and Geosciences, tested an innovative glass floor design with a group students. The design of the floor was conceptualised by former Building Technology student Dimitris Vitalis during the Technoledge Structural Design course and further developed during his master thesis. The glass sandwich panel consists of two sheets of laminated heat strengthened glass separated by glass tubes. The locations and thickness of the glass tubes were optimised by the renowned engineering firm, Arup, to evenly distribute shear forces in the panel and utilise composite action efficiently. Initial parametric studies accompanied by more detailed Finite Element Analysis (FEA) allowed for the design of the panel according to the requirements of current design standards. The numerical models were validated by a series of 4-point bending tests carried out at TU Delft before proceeding to the construction and testing of the full-scale panel. Professor Ir. Rob Nijsse and associate professor Dr. Ir. Fred Veer led the design, build, and testing.
In the week before the test, the panel was constructed with the help of students from Building Technology and Building Engineering. The large 6 x 1.5 meter sheet of laminated glass was laid down first, the glass tubes were then secured to the sheet in precise locations using an extremely strong UV curing glue. Finally, the top glass sheet was secured to produce the sandwich panel. In all, 3 panels were constructed which will be displayed at the Glasstec conference in Dusseldorf from 23rd – 26th of October.
After construction, 40 students assembled at the lab to perform a variety of tests including walking over it, filling half the panel with people, and filling the whole panel with people. The final test was marching across in sync, a condition which can be detrimental to bridges because of natural vibrations. The structure was a complete success and the students fully enjoyed the time testing and building along with staff and professors. A glass swing was also constructed using a system of pre-tensioned glass rods and will be exhibited at Glasstec as well.