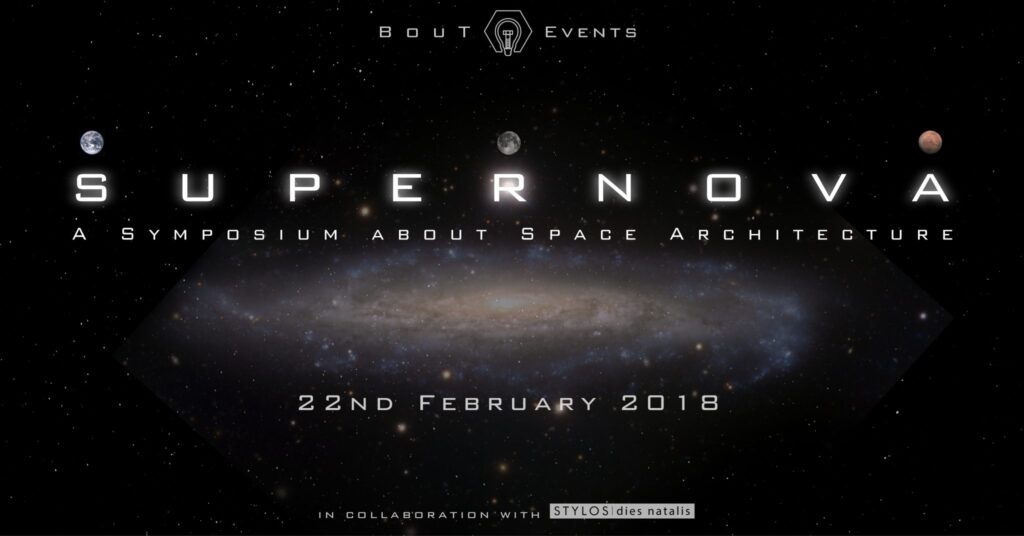 The BouT Symposiums focus on an Architectural and Technological topic that benefits humanity. This year it will be on the topic of Space Architecture, particularly regarding the related potentials for sustainable progress! In collaboration with Stylos Dies Week, a week of events in celebration of Stylos' 124th anniversary, starting on the 19th of February.
The symposium is an afternoon event starting at 12.45 on the 22nd February in the Orange Hall, at the Faculty of Architecture and the Built Environment. The event is free and open to everyone; lunch will be provided. Come see the architectural aspects of the technological prowess and relentless audacity of the new space race!
Range of content: Architecture+design of Martian and Lunar bases and habitation, architecture+design for zero gravity, methods of construction (including robotic and 3D technologies), design and testing processes, life in space, IoT and human-computer interactions, Cradle-to-cradle (circular) design
Why did we choose this topic? PVs, water purification systems and satellite climate data are examples of sustainable technologies invented or accelerated by space innovation. A whole catalogue of other inventions, including the laptop, started out for space applications. Historically, space exploration has long been a story of the spirit of human will, the desire to discover and the triumph of innovation. Crucially, in recent years, the narrative for space innovation has shifted from one of discovery to one of survival; experts such as Elon Musk believe that the continuity of the human race can only be guaranteed by becoming inter-planetary. He plans to place a human on Mars by 2024, and predicts a city on Mars in fifty years.
Our line-up of speakers:
Dr. Jean-Jacques Favier
Former astronaut at NASA and currently a Research Program Director at the International Space University, working on human space exploration including Habitat Architecture
Dr. Barbara Imhof
Space architect and Co-founder of Liquifer Systems Group, a trans-disciplinary platform engaged in designing our future on earth and in space
Hanna Lakk
Innovative designer at ESTEC with background in Architecture and doing work on growing fungi structures in space and robotic manufacturing of fibrous structures
Christina Ciardullo
Researcher and professor of space architecture design; member of Space Exploration Architecture, designer of the Mars Ice House which won the 2015 NASA Mars Habitat Challenge
Jan Dierckx
Part of the Specialist Modeling Group at Foster and Partners and a specialist in Lunar and Mars Habitat projects as well as robotic construction systems