A new BouT board has just been installed
On 26th April 2019, Dr.ing. M. Bilow a.k.a. Dr. Bucky Lab was instated as 'Honorary Board Member' of BouT for his continuous support and encouragement to the study association. Also, he welcomed officially the new board and transferred the responsibilities.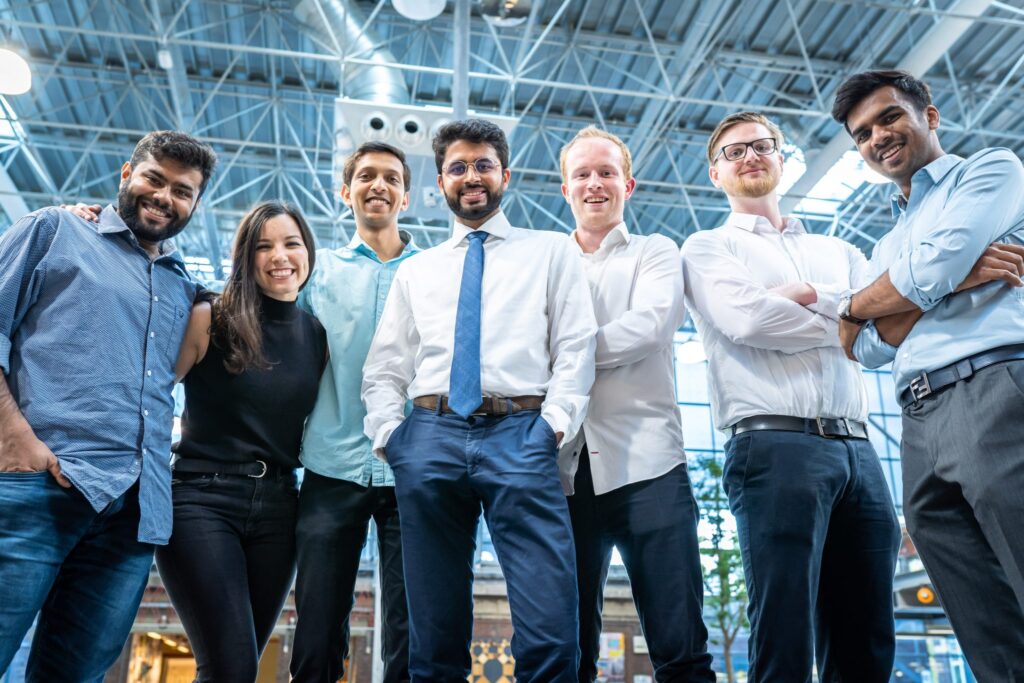 Left to Right – Prateek, Yarai, Divyae, Aditya, Kees, Tom, Tarang
ADITYA PARULEKAR – Chair
Aditya was born in Mumbai and moved to Amsterdam at a very young age. He grew up in The Netherlands and went on to do his bachelor in Architecture at TU Delft. To get work experience, Aditya joined the board of SHS Delft after his bachelor where he developed sustainable student houses in Delft and got interested in technical innovation in the built environment. This lead to him joining the Building Technology master track. As chairman, Aditya wants to make the BT students feel at home with each other in Delft and grow the (inter)national recognition of BouT.
DIVYAE MITTAL – Secretary and Public Relations
Divyae graduated from one of the top universities of India, IIT Roorkee with a gold medal for best graduation project. After pursuing internships in China, France and Malaysia, he worked for a year with Dar-al-Handasah. This made him realize that he has great interest in computational design and façade design. As the secretary and board for public relations, Divyae wishes to expand the network of BouT and make it visible in the global market.
KEES LEEMEIJER – Education
Kees received his Bachelor of Architecture at the TU Delft. Hereby he had a strong focus on the influence of digital design on the human perspective. This resulted in an internship whereby he focused on applying VR within the design process. He is currently a student assistant for the Department of Architectural Engineering + Technology and Chair of Education at BouT. Thanks to this, he can be an intermediary between staff and students, which is crucial for improving the quality of education.
PRATEEK WAHI – RuMoer
Prateek graduated in 2015 in architecture from Jaipur, one of the most historical cities in the world. He practised architecture for two years and became a junior assistant professor in his alma mater. His understanding of articulation, spaces, activities, society and human interaction led him to gain professional experience as a researcher and helped to publish for institutions like HFOA, United Nations Development Programme and Rockefeller Foundation. As a board representative of RUMOER, he envisions the publication as a database for its readers by representing more vital and integrated works in Building Technology from the fraternity.
TARANG GUPTA – Study Trips
With some years of experience in the field of architecture after his graduation, he got to grapple with the pragmatics of project executions and ambitious design intentions, before starting his studies at TU Delft. His interests in exploring new places and cultures led him to join Study Trip committee. As a board member for study trip committee he intends to plan some exciting and informative trips that would allow students to explore the theoretical knowledge in a more practical and meaningful way.
TOM ELANDS – Finances and Company Relations
Tom was born and raised in the town of Gouda, later he moved to Delft where he completed his Bachelor in Architecture. After his bachelor he spend a year doing different internships with companies in the built environment and started his own. When he came back to the TU Delft he discovered BT was the perfect fit for him to explore and discover the different aspects of engineering in the building environment. As the chair of Finances, he aims at expanding the network of BouT, connecting companies and BT students.
YARAI MARIAM ZENTENO MONTEMAYOR – Events
Yarai was born in a small town north west of Mexico and completed her Bachelor in Architecture in Tec de Monterrey, Mexico, in the international honours programme with an exchange year in TU München and a honorable mention for her academic work. After her studies, she worked as a designer on projects ranging from educational centres to cooperative buildings, where she was able to broaden her knowledge on the management and coordination aspects of architecture. Still, she felt she lacked technical knowledge and thus decided to study her master in Building Technology in TU Delft. As a head of Events, she would love to shorten the bridge between first and second year students as well as enhance their academic experience through different activities during their masters studies.