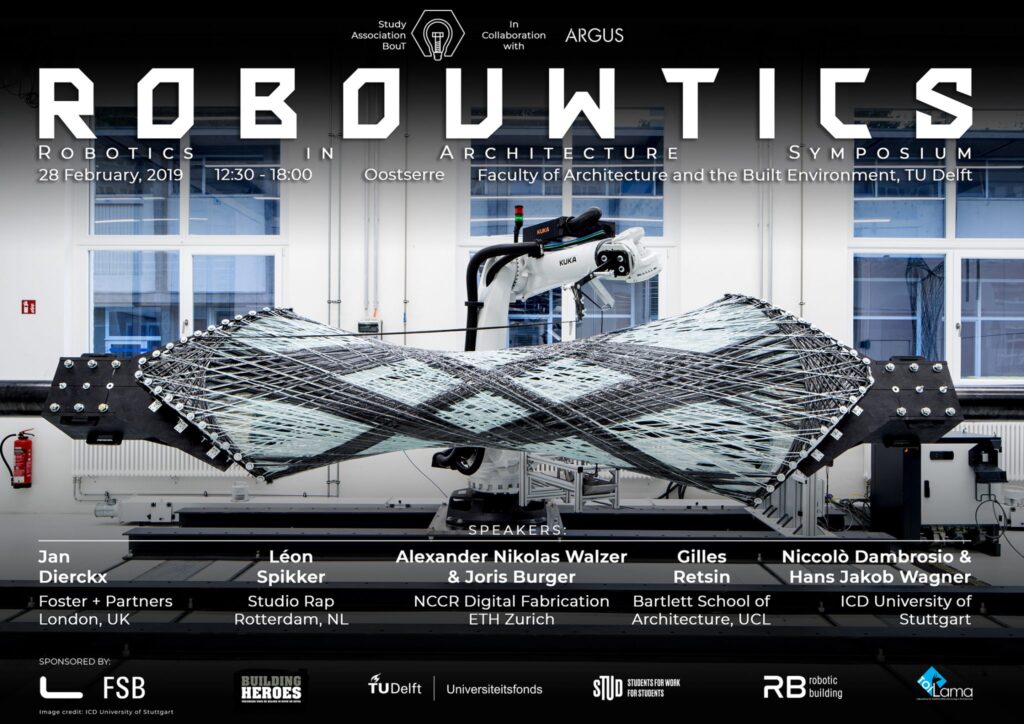 Study Association BouT, in collaboration with Argus, presents the 2019 symposium – ROBOUWTICS, Robotics in Architecture Symposium. Click here to view the Facebook event.
The BouT symposium is an annual event which focus on topics which benefits humanity and is relevant to today's issues. This year, the topic will be on Robotics in Architecture. This symposium will be a half-day event held on 28th of February from 12:30 – 18:00, in the Oostserre (Orange Hall) at the Faculty of Architecture and the Built Environment in TU Delft. This event will be free for the public and is organised into lectures of 40 minutes plus a 10 minute discussion. In the middle and end of the symposium, there will be social functions for students, teachers, companies, and speakers to meet each other. The whole event will be in English.
TU Delft's Faculty of Architecture and Built Environment is one of the world's leading institutions regarding its future oriented vision and research based study methods which take on multiple perspectives. The BouT symposium aims to reaffirm this key strength by bringing the latest research and design on a key topic into one event. The range of contents includes usage of robots for fabrication, assembly, optimisation and interactive design.
Why did we choose this topic? Robots are used in most industrial industries. For the architectural field, it is still growing in research and implementation so far has been small. Although the potential is already obvious allowing architects to design more complex 3d shapes, optimize the structure, and improve the efficiency and precision on building site, the automated design still carries the unknown and brings the excitement for exploring and experimenting. This symposium therefore aims to raise awareness and equip young professionals with new insights and a head start when they tackle challenges of the future. The emergent topic finds an ideal home in our faculty, where there are already students working and researching on robotic architecture. With the help of an international ensemble of speakers, we hope to inspire the next generation of designers by showing them the technological progress and relentless audacity of the future!

Speakers
Jan Dierckx – Foster and Partners
Jan joined Foster + Partners in 2013 and is part of the Specialist Modelling Group where he advises on complex geometry and design to manufacturing. He consults on projects worldwide including the Bloomberg and Apple Headquarters. Jan combines this role with several research initiatives in the practice and with collaborators, which range from a speculative design for a Martian habitat to software and workflow development for large-scale 3D printing. His current focus is to bring compliant industrial robotics into architecture and he is now managing robotics innovation initiatives in the practice after setting up their first robotic arm.
Lecture topic:
Working with robots in the office. What is happening behind the project? The presentation will be focusing on the impact of automated processes and digital craftsmanship on project development. The details about preparation, experiments and possibilities will be explored.

Léon Spikker – Studio Rap
Studio Rap is an architectural design company specializing in combining computational design with innovative digital fabrication methods. They develop building processes in the workshop Innovation Dock in Rotterdam. For the recent projects they received awards regarding innovations in designs and sustainability. The studio designed the first robot-made building in the Netherlands for the Port of Rotterdam, Skilled-In office. An sustainable example of robotic potential shows the Circular Experience at Circle in Amsterdam. The design was structurally optimized and automatically built with waste wood.
Lecture topic:
Digital craftsmanship in architecture.

Alexander Nikolas Walzer & Joris Burger – DFAB group, ETH Zurich
DFAB HOUSE is a collaborative demonstrator of the Swiss National Centre of Competence in Research (NCCR) Digital Fabrication on the NEST building of Empa and Eawag. As part of the full-featured building project, researchers from eight ETH Zurich professorships come together with industry experts and planning professionals in a unique way to explore and test how digital fabrication can change the way we design and build.
Lecture topic:
DFAB House, offering insight into past and future developments of two research studies implemented in the project: Mesh Mould and Smart Dynamic Casting.

Gilles Retsin – The Bartlett School of Architecture, UCL
Gilles Retsin is a London based architect and designer investigating new architectural models that engage with the potential of increased computational power and fabrication to generate buildings and objects with a previously unseen structure, detail and materiality. His work is interested in the impact of computation on the core principles of architecture – the bones rather than the skin.
Lecture topic:
Modular systems able to create different variations and robotic assembly. Projects related to this topic like INT and TRANSFOAMER will be presented. Another discussion would regard implementation of the relation between users and robots in the robotic assembly process.

Niccolo Dambrosio & Hans Jakob Wagner – ICD University of Stuttgart
The Institute for Computational Design and Construction (ICD) is dedicated to the teaching and research of computational design and computer-aided manufacturing processes in architecture. There are two primary research fields at the ICD: the theoretical and practical development of generative computational design processes, and the integral use of computer-controlled manufacturing processes with a particular focus on robotic fabrication.
Lecture topic:
BUGA Fiber Pavilion and BUGA Wood Pavilion projects. Both highly innovative, biologically inspired. The lightweight structures are fully computationally designed and robotically fabricated.

Panel
Moderator: Henriette Bier
Panelists: Serdar Asut, Michela Turrin, Paul de Ruiter, Sina Mostafavi
Sponsors